About APK
Our Case Studies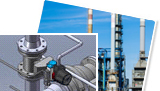 Download

Company profile
APK has been on the market of industrial valves since 2007. Established in Alicante Spain.
Relying on the international design concept, introducing foreign advanced design, manufacturing technology and international management concept, APK has developed ball valves, gate valves, globe valves, check valves & valve components conforming to ASME,ANSI,API,EN,GB,JIS,DIN,ISO and other multiple technical standards.
We make efforts to ensure customer satisfaction by offering the high level of performance and reliability of our products. APK always keeps up with the new trends in the valve industry employing vast experience gained over time and the latest cutting-edge manufacturing technologies. High quality, engineering flexibility and broad production capabilities have always been the cornerstones of our business.
APK is a constantly developing company taking every new project as opportunity to improve overall performance and fulfill the client's needs.
Year of establishments : 2007
Head Office: Alicante Spain
Branch Office: Wenzhou China
Range of products : Ball Valves, Gate Valves, Globe Valves, Check valve & Valve components
Markets : petroleum, natural gas pipelines and oil refining, chemical, power, pharmaceutical
Export : Europe, Middle east, Asia, Russia .
Industrial Certificates: CE, ISO9001, API6D, API607
Standard: ASME,ANSI,API,EN,GB,JIS,DIN,ISO,GOST